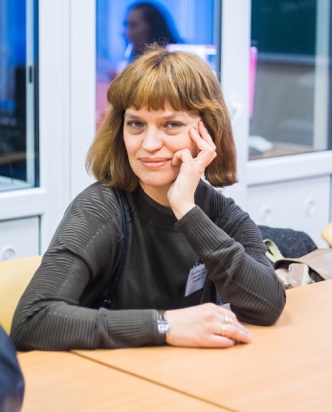 PhD in Linguistics, Associate Professor
Biography:
In 1999 graduated from Odessa I.I. Mechnikov State University and received a diploma in the specialty "French and English language and literature" (qualification: "Philologist, teacher, translator")
Since 2006 has been working in Odessa I.I. Mechnikov State University as an assistant, teacher and later an associate professor of the of French Philology Department
In 2010 defended PhD thesis "Means of expression of the semantic category of passivity in the original and translation (based on the materials of Ukrainian translations of French literature)" (specialty 10.02.16 - translation studies) in Taras Shevchenko National University of Kyiv
Courses:
Country Studies (French as the first foreign language)
County Studies (French as the second foreign language)
Introduction to translation studies
Main foreign language (French)
Second foreign language (French)
Third foreign language (French)
Association membership: Member of FIPF (La Fédération Internationale Des Professeurs De Français); Member of the Association of the French Language Teachers of Ukraine
Scientific interests: Translation Studies, Country Studies, Modern French-speaking Discourse
Main publications:
Коккина Л.Р. Особенности передачи фразеологических единиц (на материале русского и украинского переводов повести «Monsieur Ibrahim et lesfleurs du Coran» Э.-Э. Шмитта). Мовні і концептуальні картини світу: Збірник наукових праць Київського національного університету імені Тараса Шевченка. Київ: ВПЦ «Київський університет», 2012. Випуск 38. С. 338-346.
Коккіна Л.Р. Еволюція образу жінки бальзаківського віку у французькій літературі. Мова: науково-теоретичний часопис з мовознавства. Одеса: Астропринт, 2013. Вип. 19. С. 73-77.
Коккіна Л.Р. Когнітивна сутність заперечення у французькому політичному дискурсі. Наукові записки Національного університету «Острозька академія». Серія «Філологічна». – Острог: Видавництво Національного університету «Острозька академія», 2014. Вип. 48. С. 70-73.
Коккіна Л.Р. Когнітивна складова перекладу афоризмів філософської казки "Маленький принц" А. де Сент-Екзюпер. Наукові записки Вінницького державного педагогічного університету імені Михайла Коцюбинського. Серія: Філологія (мовознавство): збірник наукових праць. –Вінниця: ТОВ "фірма Планер", 2015. Вип. 21. С. 356-362.
Коккіна Л.Р. Прагматика пасивних прикметників у франкомовному Інтернет-дискурсі. Одеський лінгвістичний журнал: Науково-практичний журнал. Одеса: Національний університет "Одеська юридична академія", 2015. Вип. 5. Том ІІ. С. 72-74.
Коккіна Л.Р. Пресупозиція змісту при перекладі назв кінострічок (на матеріалі французької, англійської, української та російської мов). Актуальні проблеми філології та перекладознавства: Зб. наук. пр. Хмельницький: Видавничий центр ХНУ, 2016. Вип. 11. С. 63-69.
Kokkina L. "Les maximes dans l'enseignement du FLE à l'université". Revue du Centre Européen d'Etudes Slaves - La revue | Numéro 7 | Langues en contact.[En ligne] Publié en ligne le 14 avril 2019. URL: http://etudesslaves.edel.univ-poitiers.fr/index.php?id=1286
Навчальний посібник з кореспонденції французькою мовою (для студентів факультету РГФ). Частина 1. Одеса: "Персей", 2012. 43 с. (у співавторстві)
Навчальний посібник з кореспонденції французькою мовою (для студентів ІІІ-ІV курсів факультету РГФ). Частина 2. Одеса: "Персей", 2012. 47 с. (у співавторстві)
Навчальний посібник "Le monde du travail" до курсу "Лінгвокраїнознавство" (для студентів ІІІ курсу відділення французької філології та V курсу відділення англійської філології). Одеса: Персей, 2015. 105 с.
Internships and advanced training:
Methodical seminars: