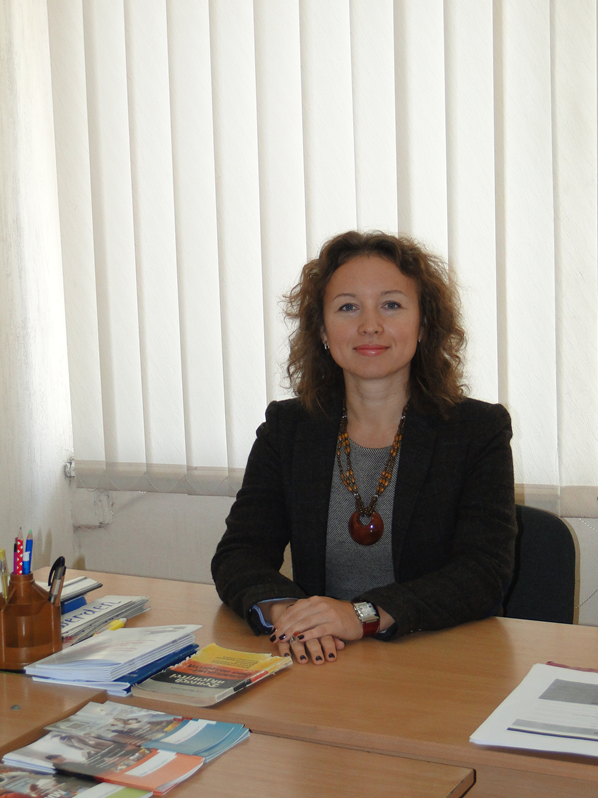 PhD in Linguistics, Associate professor
Biography:
2001: Graduated with honours from Odessa National I. I. Mechnikov University, (specialty – "German language and literature");
2001-2005: began her career as a teacher at the Department of German Philology;
2005: defended her PhD thesis, topic: the PhD thesis were defended on: «/r/ phoneme allophones functioning in German newscasters speech during 1923-2003 (instrumental phonetic research)» (specialty: 10.02.04 – Germanic languages) at the Odessa National I. I. Mechnikov University.
2005-2013: worked as an associate professor at the Department of German Philology;
2013 - present: is the Head of the Department of Foreign Fanguages ​​for the Science Faculties;
Since 2020: is German as a Foreign Language (GFL) disseminator (expert certified by the Goethe-Institut);
2020-2023: participation in the international project: Erasmus+
KA2 Modernization of Scientific German Language Teaching to Postgraduate Students of Humanities (GerTeSc)
Teaching activities:
Practical phonetics of the German language;
Practical Course of the First and Second Foreign Language (German);
Foreign language (German) for professional purposes.
Association Membership: Union of Germanists of Ukraine.
Sphere of scientific interests: practical and theoretical German phonetics, intercultural communication, methodology of teaching German, methodology of distance foreign language teaching, professional linguodidactics.
Major publications:
Навчально-методичний комплекс DU 1: Підручник для студентів вищ.навч.закладів / Боріско Наталія, Каспeр-Хене Хільтрауд, Васильченко Елена та ін. – Вінниця: Нова Книга, 2009. – 452 с.
Навчально-методичний комплекс DU 2: Підручник для студентів вищ.навч.закладів / Боріско Наталія, Каспeр-Хене Хільтрауд, Васильченко Елена та ін. – Вінниця: Нова Книга, 2011. – 344 с.
Навчально-методичний комплекс DU 3: Підручник для студентів вищ.навч.закладів / Боріско Наталія, Каспeр-Хене Хільтрауд, Васильченко Елена та ін. – Вінниця: Нова Книга, 2013. – 200 с.
Навчально-методичний комплекс DU 4: Підручник для студентів вищ.навч.закладів / Боріско Наталія, Каспeр-Хене Хільтрауд, Васильченко Елена та ін. Вінниця: Нова Книга, 2018. 178 с.
Васильченко Е. Г. Вариативность немецкой фонемы /r/ сквозь призму лингвосинергетики. Записки з романо-германської філології. Випуск 2 (43). 2019. 20-29. DOI 10.18524/2307-4604.2019.2(43).186208
Vasylchenko E. Wandelprozesse bei der R-Aussprache in den nationalen Varietäten des Standarddeutschen. Jahrbuch für Internationale Germanistik, Reihe A. Band 132 Sprachliche Variation im Deutschen: Unterrichtsdidaktische, deskriptive und internationale Perspektiven. Herausgegeben von Jutta Ransmayr und Elena Vasylchenko. Peter Lang AG, Internationaler Verlag der Wissenschaften, Bern 2019. 169-181. DOI 10.3726/b13270
Verbitskaja T., Vasylchenko E. Ausgangslage mit Fokus auf die Ausgangssprache der Studierenden bei der Аusspracheschulung. Germanistik in der Ukraine. Heft 13. Kyjiw: Verlagszentrum der KNLU, 2018. 21-27.
Vasylchenko E. Der R-Laut als Herstellungsmerkmal der nationalen Standardvarietäten des Deutschen. Sprache. Sprechen. Kommunikation. - Beiträge zum Jubiläum Prof. Olena Steriopolo. Kyjiw, 2016. 235-241.
Васильченко Е.Г. Реализация фонемы /r/ в условиях меняющегося исторического контекста (на материале речи дикторов Германии 1923-2003 гг.). Веснiк Гродзенскага дзяржаўнага ўнiверсiтэта iмя Янкi Купалы. Серыя 3. Фiлалогiя. Педагогiка. Псiхалогiя. 2014. № 3 (185). 22-27.
Васильченко Е.Г. Синергетическая природа звуковых изменений (на примере реализации немецкой фонемы /r/) Типологія мовних значень у діахронічному та зіставному аспектах : зб. наук. праць / В. Д. Каліущенко (голов. ред.). Донецьк : ДонНУ, 2014. Вип. 29. 82-91.