Head of the Chair − Elena Karpenko,
Doctor of Philological Sciences, Full Professor
Teachers and employees of the department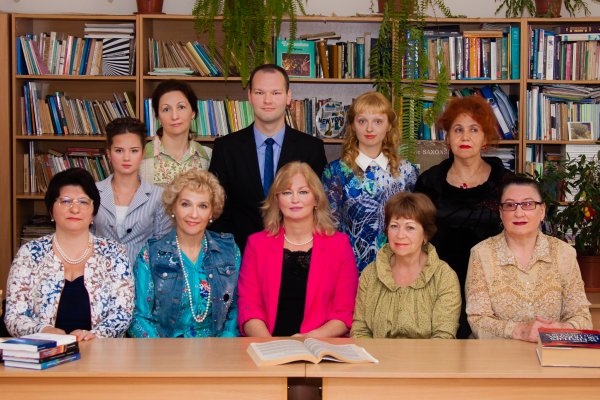 Sosnytskyi Igor O. − senior lecturer
Khromchenko Olena V. − cand. of pedagogical sciences, senior lecturer
Kosovets Margarita V. − senior laboratory assistant
Historical background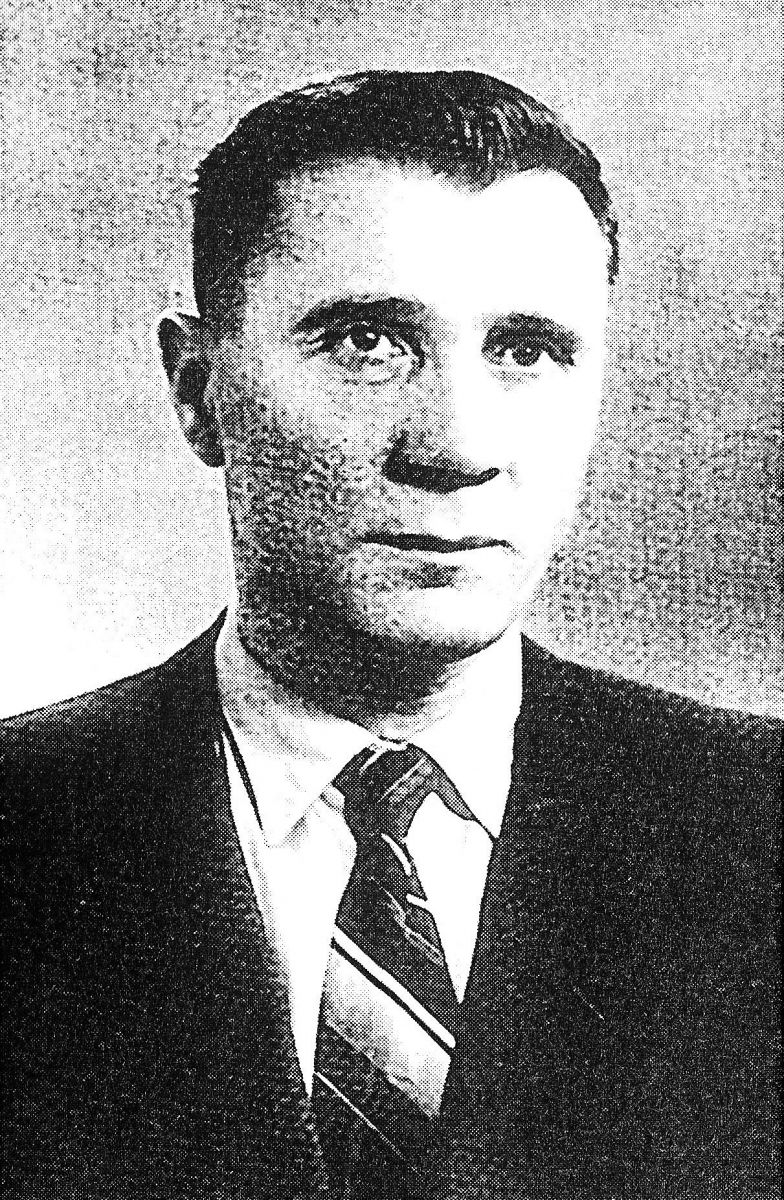 English Grammar Chair was founded in 1963 by a prominent linguist, doctor of philological sciences, full professor Andrew Korsakov, who headed the chair for 30 years. Due to his efforts the chair became a real centre of linguistics where many highly qualified scientists and lecturers were prepared. Under the supervision of Prof. Korsakov more than 30 candidate and 1 doctoral theses were successfully defended.
Prof. Korsakov is the author of more than 500 scientific works, among which are such fundamental works as "The Use of Tenses in Modern English" and "Foundations of Modern English Grammar". In 2000 The University of Cambridge named Prof. Korsakov one of the top 20 linguists of the millennium. From the foundation of the chair many talented lecturers worked here, among whom it is possible to mention ass. prof. M.S. Latushkina, ass. prof. D.V. Maliavin, ass. prof. V.M. Anikina, senior lect. A.O. Zinovieva, senior lect. L.P. Korobkov and many others.
From 1989 to 2008 the chair was headed by the candidate of philological sciences, ass. prof. V.P. Kolyada, the author of more than 150 scientific works, textbooks and manuals among which are "Syntactic Analysis of the Composite Sentence" and "Methodology of Teaching Foreign Languages". For her great achievements in pedagogical activities V.P. Kolyada was awarded the honorary title of Vidminnik Osviti in 2010.
Since 2008 the Chair has been headed by Elena Karpenko, doctor of philological sciences, professor, the author or more than 100 scientific works, among which are the monograph "Problematics of Cognitive Onomastics" and the textbook "Cognitive Onomastics", recommended by the Ministry of Education of Ukraine. Prof. Karpenko developed a new line in the investigation of proper names – cognitive onomastics. The circle of scientific interests embraces transformation of onyms in verbal mentality, the structure of mental lexicon, problems of psycholinguistics and literary onomastics. Under her guidance eight candidate theses were defended, four post-graduates continue their scientific research. E.Karpenko is a member of the Ukrainian Onomastic Council of the National Academy of Sciences of Ukraine, of the American Names Society, the International Council of Onomastic Sciences and Ukrainian Association of Cognitive Linguistics and Poetics.
The Chair provides teaching for specialists in several directions. First of all, it is teaching the students of the Romance-Germanic philology department, future teachers of English, Spanish and future interpreters. The staff of the chair helps them with mastering modern English and lead them into the scientific philological world introducing such theoretical courses as Introduction to Romanic-Germanic philology, the history of the English Language, Theoretical Grammar, etc. Professors and associate professors offer wide range of special courses. Materials and methodological skills obtained during trainings abroad are applied in the teaching process.
We also supervise students' teacher-training practice and provide scientific guidance for writing Bachelor, Master and Diploma theses. We help our students master the English language in all its aspects.
Teaching Activity
Our lecturers offer the following fundamental theoretical and practical courses:
Theoretical English Grammar
Topical Problems of Present-day Germanistics
History of English
Introduction to Germanic Philology
Comparative Grammar
Theory and Practice of Translation
Methods and Methodology of Teaching English
Psycholinguistics
Linguosynergytics
The Chair of English Grammar offers special theoretical courses, based on the results of scientific research:
Simple Sentence in Modern English
Modern Linguistic Trends
Fundamental Categories of the English Verb
Problematics of Cognitive Onomastics
Problematic Cases of Syntax
Lingual Peculiarities of Internet Communication
Pragmatics. Speech Acts
Syntactic Structures with Included Clauses in Modern English
Efficiency of Dialogical Communication
Practical courses delivered by all the lecturers include Practical English Grammar and English as a Foreign Language.
Scientific Activity
The Chair works on complex research theme, such as "Cognitive and discourse categorisation of speech and language phenomena of different levels in synchrony and diachrony" ( st. num. 0113U002692, 2013-2017) under the guidance of Professor E. Karpenko. The results of the research are published in acticles, absracts, monographs, textbooks, approved at Ukrainian and international conferences, defended as doctoral and candidate theses.
Professors of the Chair take part in the work of Dissertation Defence Boards in Odessa (Zhaboruke O.A., Karpenko E.Yu., Morozova I.B.).
Professors of the Chair are members of various editorial boards of philological journals. Prof. Karpenko is Chief Editor of the philological journal "Opera in Onomastica".
Annual Students' Scientific Conferences and Professors' Scientific Conferences dedicated to modern grammatical issues are held at the Chair of English Grammar.
Professional development
During the period from 2008 to 2018 the following candidate thesis were defended:
2008 − Аlexandrova V.G.Communicative Potential of the Elliptical Sentence in Modern English (10.02.04 – Germanic Languages);
2010 – Lymarenko O. A. Contradictory Relations in the Complex Sentence In Modern English (10.02.04 – Germanic Languages);
2010– Arkhypova N.P. Cognitive-Communicative Aspect of the Simple Sentence (10.02.04 – Germanic Languages);
2010 – Neklesova V.Yu. Cognitive Characteristics of Proper Names Signifying Time (10.02.15 – General Linguistics);
2012– Tkatchenko A.V. English Chrematonyms as Lingvo-Cognitive Phenomena of Word Image (10.02.04 – Germanic Languages);
2014 – Dolbina K.D. Cognitive Aspects of Zoonymic Proper Name Functioning (10.02.15 – General Linguistics);
2014 – Nasakina S.V. Structure and Functioning of Proper Names in Pharmaceutical Advertising Texts (10.02.15 – General Linguistics);
2014 – Pozharytska O.O. The Author's Concept of the Positive in the Main Character's Speech Portrait: A Communicative and Paradigmatic Analysis (based on American "western" novels) (10.02.04 – Germanic Languages);
2014 – Abramova Ie.Yu. Grammatical Organization and Communicative Essence of the Compliment in the English Literary Dialogue (10.02.04 – Germanic Languages);
2015 – Didur Y.I. Peculiarities of Functioning of Ergonyms in Language, Speech and Mental Lexcon (10.02.15 – General Linguistics);
2016 – Serebryakova V. V. Conceptualization of Poetonymic Sphere in a Series of Novels «Twilight» by S. Meyer (10.02.04 – German Languages)
2016 – Karpenko M. Yu. The Onymic Space of the Internet (Based on English Siteonyms) (10.02.04 - Germanic Languages);
2018 – Bila I.S. English Aromatonyms: Structural, Semantic and Cognitive Dimensions
(10.02.04 - Germanic Languages);
The following doctoral theses were defended:
2010 – Мorozova I.B. Taxonomy of the Elementary Communicative Units in Modern English (10.02.04 – Germanic Languages).
2014 – Dombrovan T.I. Synergetic Model of the English Language Development (10.02.04 – Germanic Languages);
Contact Information
Room 131, Frantsuzky Boulevard 24/26
65058 Odessa Ukraine
Tel.: +38 (048) 776 11 15